Abstract submission, Registration and Accomodation reservation
Abstract submission, Registration and Accomodation reservation can be done from the following link.
Contact info for inquiries about online registration:
ACSIN-12 Registration Desk <acsin12_icspm21@gakkai-web.net>
Registration fees
Regular
Student
Advanced Registration
(until Sep 30, 2013 JST)
JPY 50,000
JPY 20,000
Normal Registration
(from Oct 1, 2013 JST)
JPY 55,000
JPY 25,000
The payment for the registration fee should be due by credit card or bank transfer to Keio Travel Agency. Details for the payment can be found at the "Online Registration Site" linked above.
Presentation
Oral
15 min each. 10 min for presentation and 5 min for discussion.
Poster
Poster board size: W 100 cm &times H 210 cm. Poster presentation is for 120 min.
Abstract Format
Template MS-Word file (.doc) for abstract preparation is available:

A one-page abstract should be prepared as a PDF file in the following format:

Use a sheet of A5 size paper in landscape as the image below.
Leave margin of 20 mm or 0.8 inch on each edge.
Title words should be capitalized except for prepositions, articles, etc.
Title and other parts are in 14 pt / 10.5 pt Times New Roman or similar fonts.
Title, authors' names, and affiliations are left-aligned.
Title is in bold face, affiliations in italic.
Underline the presenting author.
Insert one blank line between the affiliations and the main text.
Main text should be fully justified with a line height of 16 pt.
Abstract DVD is published in color but abstract book is printed in grayscale. Make sure that your color figures are also meaningful in grayscale.
Embed all the fonts in the PDF file.
Never lock the PDF file for printing.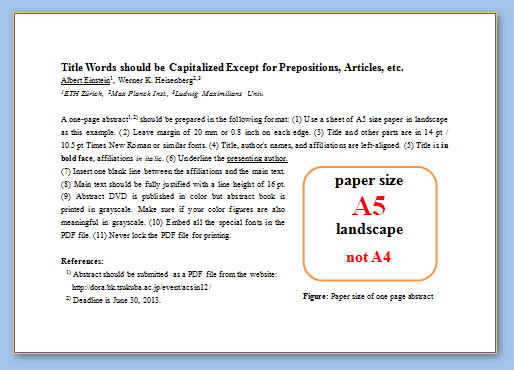 Hotels
Hotels can be reserved in the registration form at the online registration site. Follow the link above.
If you would like to reserve hotels by yourself, a list of hotels in the vicinity of the conference venue is available:

http://www.epochal.or.jp/eng/hotels/index.html